The healthcare system of the Philippines greatly mirrors the economic condition of the country, with wealth inequality as the overriding concern. The leading medical institutions are at par with global medical standards, but majority of the facilities in the provinces and villages still struggle with the most basic needs at the primary care level. 25% of the population are below the poverty line, contributing to inaccessibility of medical services. Furthermore, the consistent leading causes of morbidity throughout the years are indications of developmental issues that remain to be addressed.
5 Leading Causes of Morbidity
1.
Acute Respiratory Infection
2.
Acute Lower Respiratory Tract Infection and Pneumonia
3.
Bronchitis/Bronchiolitis
4.
Hypertension
5.
Acute Watery Diarrhea
In 2013, the Philippines grew at 7.2%, outperforming its neighboring ASEAN countries. Strong growth looks set to continue, as rising foreign direct investment, improvements in global competitive indices, and credit ratings upgrades to investment grade by major credit rating agencies will further reinforce the positive outlook in the Philippine market.
2013 GDP Real Growth Rate
The Philippine Developmental Plan 2011-2016 focuses on the improvement of the quality of life of the Filipino citizens, primarily on health. This commitment is also reflected in the huge increase in the Department of Health (DOH) National Budget allocation with the main purpose of expanding health insurance coverage of indigent citizens.
Alongside a growing economy are favourable demographics, with a young population expected to reach 100 million in 2014, making it the second largest population in ASEAN and 12th in the world.
Examinations of the economic, political and social factors in the country indicate that a lot of opportunities await businesses in the healthcare sector.
---
Philippines Healthcare Spending
Healthcare expenditure is approximately 4.6% of the GDP, with per capita expenditure nearing PhP 5,200 (119 USD), growing at an average of 15% per year since 2009. Over the past 5 years, approximately 37% of the total healthcare expenditure comes from public sources, both government as well as overseas development assistance.
Philippine Healthcare Expenditure Split
The government is working towards expanding the National Health Insurance Program or PhilHealth, in order to increase access. About 81% of the population are now covered by PhilHealth and the government targets universal coverage by 2016. However, co-payments are high, services are not yet comprehensive and reimbursement procedures are complicated.
Department of Health Budget (Billion PhP)

Through the enactment of the National Health Insurance Act in 2013, which aims to provide PhilHealth coverage to all, it is hoped that healthcare will become more affordable and accessible to all Filipino citizens, especially the poor who are most exposed and burdened by expensive healthcare. To achieve these efforts, the government allocated ~PHP35 billion ($800 million) to PhilHealth. The law states that "The Program shall be compulsory in all provinces, cities and municipalities nationwide, notwithstanding the existence of local government unit-based health insurance programs." This is consistent with the government's commitment to an inclusive growth by relieving high out-of pocket costs through increased government support.
---
Philippines Healthcare Delivery
The primary governing agency in the Philippine healthcare system is the Department of Health (DOH) but agencies at the provincial, municipal, and village level lead the implementation of central government priorities. DOH develops health policies and programs, ensures the provision of quality health care, and regulates the delivery of health services and products by both public and private healthcare facilities.
Healthcare System Structure and Referral System
The healthcare industry in the country is dominated by the private sector, accounting for an estimated 60% of the ~1,800 hospitals. Private facilities in general are more expensive but are perceived to provide better services because of faster processing of results, more advanced equipment, and cleaner and less crowded facilities. Private services are used by about 30% of the population who have the capacity to pay out of pocket. Public services mostly cater to the poor and near-poor as well as populations residing in isolated and deprived areas.
Hospital Type, Ownership, and Number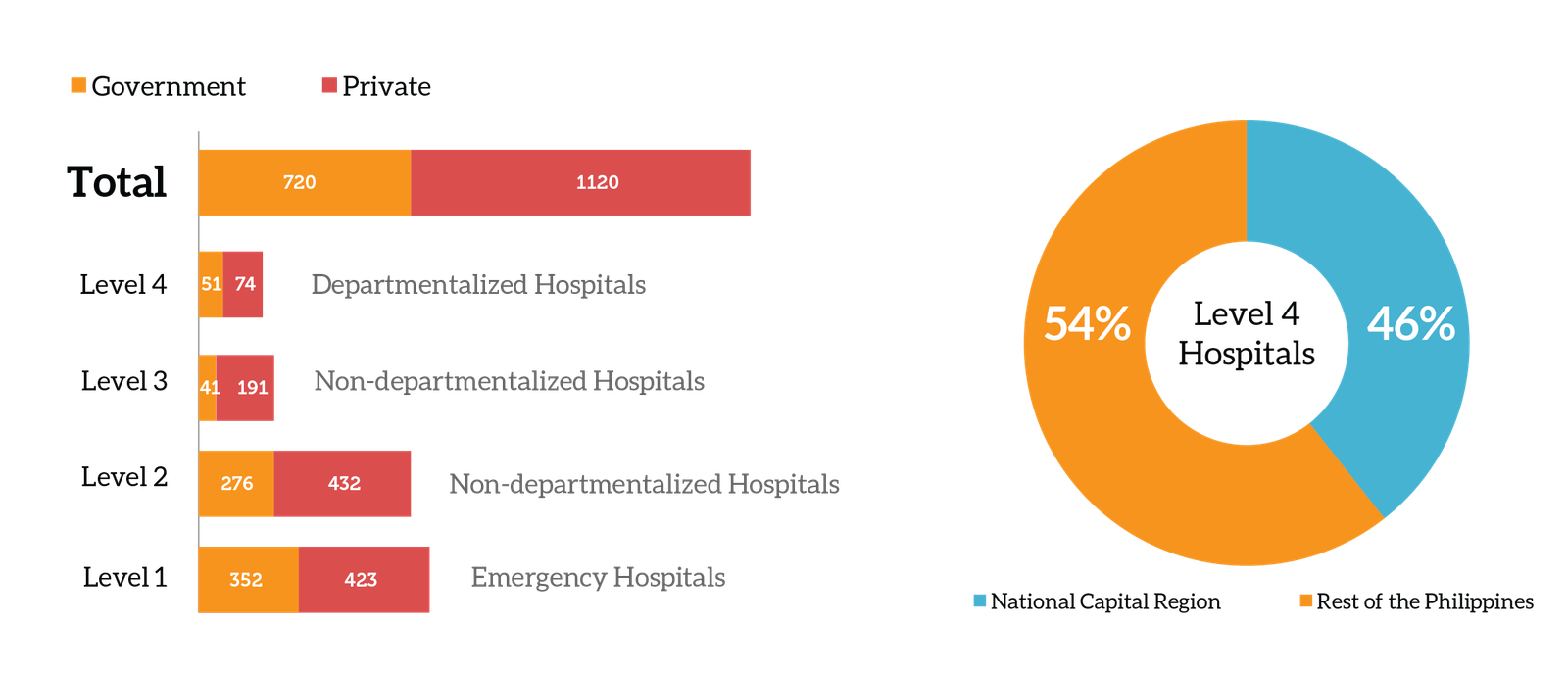 Philippines is a major exporter of health workers, especially nurses who migrate and seek better paying jobs outside the country leaving rural and poor areas with shortages in skilled manpower. The majority of workers who stay in the country are in urban areas especially doctors who can practice in various healthcare facilities.
---
Philippines Medical Tourism
The country is becoming increasingly popular as a medical tourist destination. Promotion of this industry started in 2006 under then President Gloria Macapagal Arroyo who issued Executive Order 372. The EO focuses on the development of industries such as Health and Wellness. Philippines continues to attract various foreign nationals especially from the United States, Guam and European countries with its competitive medical costs, highly-trained healthcare professionals, well-equipped facilities (the major private hospitals), fluency in English and attractive tourist spots.
At a forecasted CAGR of 26.5%, an average of 200,000 foreign patients annually is expected by 2015, making medical tourism a PhP132 billion ($3 billion) industry.
Most common procedures requested by medical tourists include:
Executive check-ups
Weight-loss surgery
Cosmetics and plastic surgery
Dental procedures
Orthopaedics treatment
Cardiology treatment
Ophthalmology treatment
Cancer treatment
Currently, there are five hospitals in the country that are accredited by Joint Commission International.
JCI Accredited Facilities in the Country
Metro Manila
Cebu City
St. Luke's Medical Center – Quezon City
Chong Hua Hospital
St. Luke's Medical Center – Global City
Medical City
Makati Medical Center
Medical tourism is encouraged by the government but currently involves mostly private health facilities as public/government hospitals' focus now is on providing greater access to the poor citizens. There are about 44 DOH and Department of Tourism (DOT) medical tourism accredited healthcare facilities in the country.
---
Philippines Pharmaceuticals Industry
Pharmaceuticals is one of the fastest growing industries in the Philippines, with 3.7% growth projected in 2014 totalling PhP143 billion ($3 billion) in sales, accounting for per capita drug spending of PhP1,400 ($32).
Foreign drug companies such as Sanofi, GaxoSmithkline (GSK) and Novartis dominate the industry with ~75% share. Among these companies, only GSK has a manufacturing plant in the country. Major domestic companies include United Laboratories, Pascual Laboratories, GC International and Natrapharm. Domestic players posted significant growth in recent years, driven by the wider acceptance of generics drugs, previously not trusted by Filipino consumers. This change in behaviour is largely attributed to the new legislation that made the use of generic drugs mandatory in public hospitals.
Pharmaceutical Channels
To remain competitive, many multinational companies are reducing the price of some of their branded drugs by as low as 50% while others are entering the generics market. Growth of generics is expected to maintain in the years ahead.
---
Philippines Medical Device Industry
The medical device industry in the Philippines is valued at about PhP18 billion ($410 million) and is expected to reach PhP26 billion ($600 million) by 2016. Industry growth is primarily at private facilities, in more affluent and urbanized areas which have an adequate funding to procure new and high-end medical devices. Although the Philippines is able to produce basic medical supplies and products locally, majority of medical products especially advanced medical devices such as those used in diagnostic imaging, therapy and surgery are imported from countries like the United States, China, Switzerland and Singapore.
Philippines Medical Device Market, 2012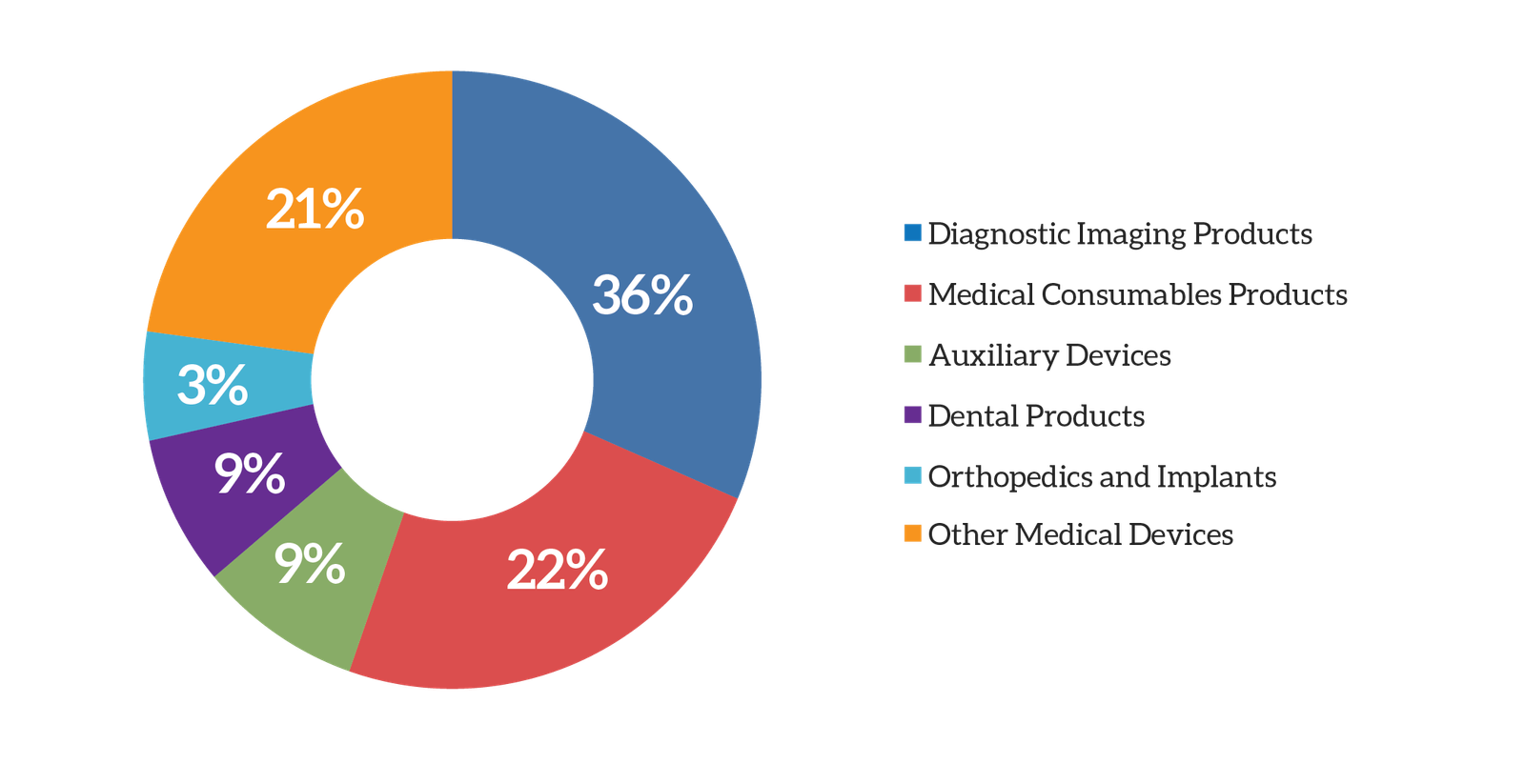 Major Players
Top hospitals in the country adopt the latest technology in the market. They acquire state-of-the-art medical devices that would allow them to offer specialized diagnostic and therapeutic procedures.
| Equipment | Dominant Procurement Type |
| --- | --- |
| PET-CT scanner, cyclotron machine, 3-Tesla MRI machines, 256-slice CT scanners, CT simulators, linear accelerator, Hyperbaric Oxygen Therapy Machine, Gamma Knife, Robotics Surgery, Digital Mammography, Automated Breast Volume scanning machine | Outright purchase with a warranty period (normally one year); contract renewed annually afterwards |
| Laboratory equipment and other consumable heavy devices | Rent or Borrow with Consumables Purchase Agreement |
Terms of preventive and corrective maintenance of the machines in the contract are very important to ensure optimum equipment uptime especially for very expensive devices. Hospitals protect themselves from revenue losses due to unaccommodated patients by ensuring that the equipment are serviced right away should a malfunction or breakdown occur. Most of the well-equipped hospitals in the country are located in Metro Manila where medical equipment offices and service providers are based.
Because most of these machines are imported, supplies and other products accompanying their use are likewise imported which drives costs of procedures. It is for these reasons that the main customers of the big hospitals are the people belonging to the upper income class who can afford to pay out-of-their pocket.
Currently, only a few medical devices are subject to mandatory registration and regulatory compliance procedures, including MRI machines and radiation devices. More substantive requirements however are being developed.
Medical device regulators
Center for Device Regulation, Radiation Health, and Research (CDRRHR)
Bureau of Foods and Drugs (BFAD)
---
Challenges
Despite the successful efforts of the government to expand health insurance coverage, access to decent healthcare especially by the poor remains a challenge. The number of PhilHealth accredited facilities is very limited and most of the hospitals are located in big cities. In addition to the complexity of PhilHealth reimbursement and the inadequate coverage of available benefits, the time and costs to reach these places hinder people from utilizing their benefits. Moreover, many of the members are not even aware of their benefits or how to take advantage of them.
Health centers in villages (barangays) are supposed to provide primary care to their communities but of the 42,000 barangays in the country, only 17,000 have health centers. These are typically overseen by social workers and midwives, and more skilled health professionals are needed.
Along with a more efficient use of resources as budget allocation to healthcare increases, radical improvements in the management of the healthcare system should also be implemented if inclusive and sustainable growth throughout the country is really to be achieved.
---
For more details on how Solidiance can help you to successfully enter Philippines and grow your healthcare business, please meet our team or send us an email.
---