~70% of Myanmar's population stays in rural areas. Although, the quality of healthcare in Myanmar is not very impressive by global standards, the "best" healthcare that the country can offer is in Yangon, Mandalay and the capital city of Naypyidaw. Lack of investment along with foreign sanctions (such as barring international NGOs to provide health services) during the military regime limited the country's public health system to shambles in the past decades. Only post-2010, after an elected government came into power, the country and all its systems are facing liberalization and started to focus on healthcare.
Myanmar has one of the lowest healthcare spending (~2.7% of GDP) in the world.
In 2010, Myanmar was identified as the only Asian developing country with a defense budget greater than healthcare and education put-together. But now the Government has announced a re-allocation of GDP spending with a greater focus on the later two segments. The Government was previously spending ~1.3% of its annual budget on healthcare contrasted with ~11% in Thailand. But in 2012, a letter of intent was signed between International Monetary Fund (IMF) and the Myanmar Government to increase the healthcare spending and was increased to 4 times of the previous year.
Asean Healthcare Expenditure (% of GDP) - 2012
Asean Per Capita Total Healthcare Expenditure (US$) – 2012
Myanmar has a "shortage" of doctors as most practicing doctors want to be located in or around big cities. So availability of doctors in interiors of the country is extremely low. To make things worse, the doctors are underpaid. For eg. in public hospitals, a junior doctor earns ~USD100-350 / month. This blended with mediocre government-run medical schools, the overall quality of healthcare offered to the masses is poor.
Myanmar's healthcare system is faced with a number of challenges which result in an overall dismal healthcare offering & delivery.
Hundreds of doctors run private clinics in and around major cities. For many, the priority is to rope in as many patients as possible and prescribe medicines irrespective of whether they are needed or not. Moreover, the quality of medicines in Myanmar is also an issue. Many drugs in Myanmar are unregulated or counterfeit.
Challenges faced by the healthcare system:
Under-resourced across the country
Underpaying jobs & corrupt practices
Mediocre education system
Poor spending power of people
Uneven distribution of population
Counterfeit medicines
Myanmar Healthcare Expenditure Split (US$ Mn)
Healthcare Statistics – Yangon vs. Myanmar, 2012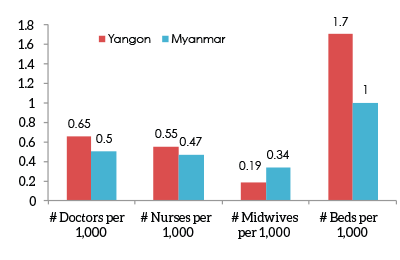 Yangon is considered the epicenter of healthcare in Myanmar. This is corroborated by the fact that Yangon's healthcare spending/capita is twice that of Myanmar.
Healthcare spending, 2012 (Total - ~US$ 1.38 billion)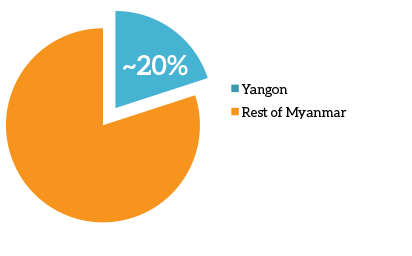 Healthcare Spending (Capita - 2012)
---
Myanmar Hospitals Overview
Hospitals are largely concentrated in cities and towns of Myanmar. Public hospitals constitute ~90% of the total hospitals.
Hospitals in Yangon - 2012 (Total : 119)
Number of Hospital Beds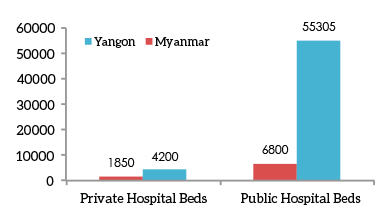 ---
Myanmar Top Diseases
Single Leading Causes of Mortality, 2011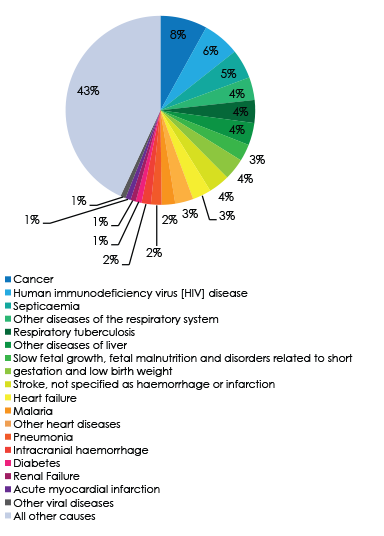 Single Leading Causes of Morbidity, 2011
---
Myanmar Private Hospital Comparison
Victoria, Asia Royal & Pun Hlaing are the top 3 private hospitals in Yangon.
Manpower Split by Hospitals, 2012
# of Beds by Hospitals, 2012
Average Price/ Night (US$) for Single Bed, 2012
Average # of Surgeries/Month, 2012
---
Myanmar Medical Tourism - Overview
25,360
is the number of Burmese patients that got treatment at Bumrungrad hospital in 2012.
---
22,211
is the number of Burmese patients that got treatment at Bangkok hospital in 2012.
---
US $150 Million
is the estimated amount of money spent by Burmese patients in Thailand, Malaysia & Singapore (combined) on healthcare in 2012.
---
# of Medical Tourists from Myanmar, 2012
Cancer, Cardiac problems, Hip replacement & Kidney transplants are the top reasons for Burmese to travel abroad for treatment. By law, private hospitals in Myanmar can not do organ transplants – This law is under discussion and parliament will decide on it in February 2014.
Better healthcare infrastructure and affordable travel is booming medical tourism from Myanmar to the neighboring countries.
---
Myanmar Overview of the Pharmaceutical Industry
Yangon and Mandalay constitute ~60% of the pharma sales of the country. There is an increasing focus by the government to regulate and improve this sector after being neglected in the past.
Myanmar's pharmaceutical industry is estimated to ~US$ 495 million. Yangon and Mandalay constitute ~60% of the pharma sales. The industry is dominated by Indian pharma companies which are estimated to have ~40% of the market share. Ranbaxy, Dr. Reddy's & Sun are some prominent Indian companies having operations in Myanmar.
In March 2013, Myanmar announced a reorganization of its Food and Drug Administration (FDA) and to increase staffing from 16 to 600 to focus on :
building additional capabilities in the area of drug registration (curtail issues of pharma black market, trademark enforcements)
support Ministry of Health to update the National formulary (no significant upgradation since the past 20 years)
updating the Essential Medicine List (EML) for Myanmar
an easier centralized tendering procedure (currently tendering in government hospitals is very poorly planned – tenders at short notice, not well advertised)
"The medicine tendering process of Myanmar's public hospitals is not streamlined and can be lethal for patients. For example, few months ago there was a tender from a public hospital for a couple of thousand boxes of medicines. A multinational quoted ~US$ 2.00 per tablet, which they claim was desperate under-pricing to secure an order. For the same drug, a local distributor quoted about 1/6th of that. Either the local distributor was trying to push substandard medicines or had enough of aging stock which he wanted to get rid of. If this is true, then this can be a serious compliance risk. The Ministry of Health needs to have a stronger centralized procurement system with stronger norms and quality checks"

Owner, Golden Pharma Distribution
---
Myanmar Distribution Scenario of Pharmaceuticals
Pharma distribution is considered the key success factor in Myanmar. Yangon houses the largest pharma wholesale of the country. The market has two Tier 1 multinational distributors.
Distribution of pharmaceuticals is considered as the main challenge in Myanmar. In the absence of a strong tendering system, a strong distribution partner is alone considered as the most crucial factor for success in Myanmar. A good distributor should have strong relationships and access to its customers. It should be aware of floated tenders. In light of the corrupt business practices present in the country, this success factor also poses as a compliance risk to the multinationals.
Mingalar Market of Yangon house 100s of distributors, wholesalers and dealers for medicines of varied sizes. Mingalar market has been historically considered the central point of pharma distribution across Myanmar.
In the organized distribution, there are only two Tier 1 distribution companies in Myanmar :
DKSH - from Switzerland (In Myanmar since 1998 - 7 owned warehouses across Myanmar)
Mega Life Science – from Thailand – In Myanmar since 1995
---
Myanmar Overview of Medical Devices
Medical device industry of Myanmar has witnessed a recent increase in demand, complimented by the market entry of prominent international medical device companies.
Medical facilities in Myanmar have been looked down upon historically. One of the factors contributing to this impression has been a shortage / usage of outdated medical devices and equipment due to the neglected healthcare system.
However, the medical devices market of Myanmar has witnessed an increase in demand since 2012 primarily because of :
Government announced increase in healthcare spending
Private Hospitals want to offer better healthcare facilities
Leading international medical devices players such as GE entered Myanmar in 2012-13 making it easier to import and service such sophisticated equipment such as CT scanners, X-rays, MRI and CT simulators.
Ministry of Health as well as some private hospitals are enquiring, replacing and upgrading their outdated equipment:
In 2012, GE won the tender to supply 22 CT scan machines and 4 CT simulators for training to the Ministry of Health
GE also supplied X-ray machines to prominent private hospitals such as Pun Hlaing
Toshiba has recently supplied X-ray machines to a few local clinics of Yangon
Philips introduced Myanmar's first PET/CT imaging system in May 2013. This will be installed in Yangon General Hospital
Siemens had previously supplied CT scanners to prominent hospitals such as Asia Royal
Prominent International players in Myanmar's Medical Devices Industry
---
Myanmar Overview of Medical Devices
Company
GE Healthcare
Toshiba
Year of Entry into Myanmar

Signed agreement in 2012
First American company to enter Myanmar after USA eased sanctions against Myanmar in 2012

Setup office in 2012
Claim to be serving the market from Thailand since past couple of years

Mode of Entry

Entered Myanmar through a national distributor – SeaLion – for sales/support

Entered Myanmar directly – by banking on past experience gathered
Sales office in Yangon

Sales

Immediately on entering Myanmar, GE signed a US$ 2mn deal to supply X-ray machines to Pun Hlaing & Bahosi Hospital in Yangon
All machines are imported and average waiting time is 2-3 months
Delivered ~20 CT scanning machine, 9 X-Ray & 2 MRI machines till date

All machines are imported from Japan. Average waiting time is 1-3 months

Product Training

Experts fly from Thailand to offer product training on product delivery

Experts fly from Japan to offer product training on product delivery

After Sales Support & Troubleshooting

Local teams of SeaLion in Yangon & Mandalay attend complaints within 24 hrs
Email based trouble shooting from GE Healthcare, Thailand
Warranty : 1yr in most cases
Preventive Maintenance contracts : for annual servicing

Currently no local team to service complaints on the ground. For issues, fly engineers from Japan/Thailand
Warranty : 1yr in most cases
---
For more details on how Solidiance can help you to successfully enter Myanmar and grow your healthcare business, please meet our team or send us an email.
---