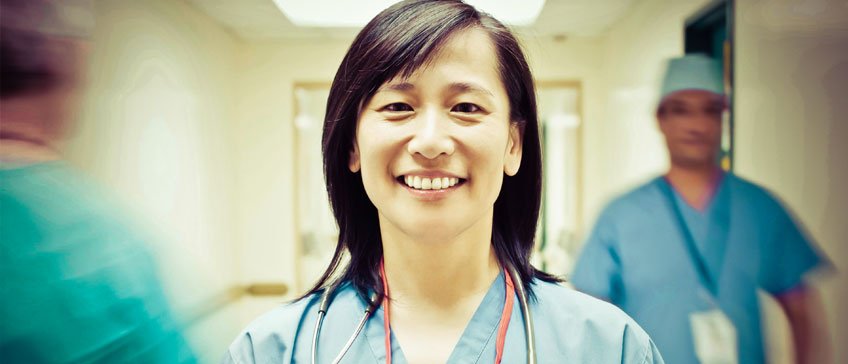 China's announcement for an increase in GDP contribution to healthcare from 5.5% to 7% in 2013 would bring its healthcare expenditure from 2011's US$357 billion to US$1 trillion by 2020. Since the healthcare reforms introduced in 2009, the Chinese government has been launching initiatives to work towards Healthy China 2020, which is to provide universal healthcare by 2020.
Legend: Data in 2013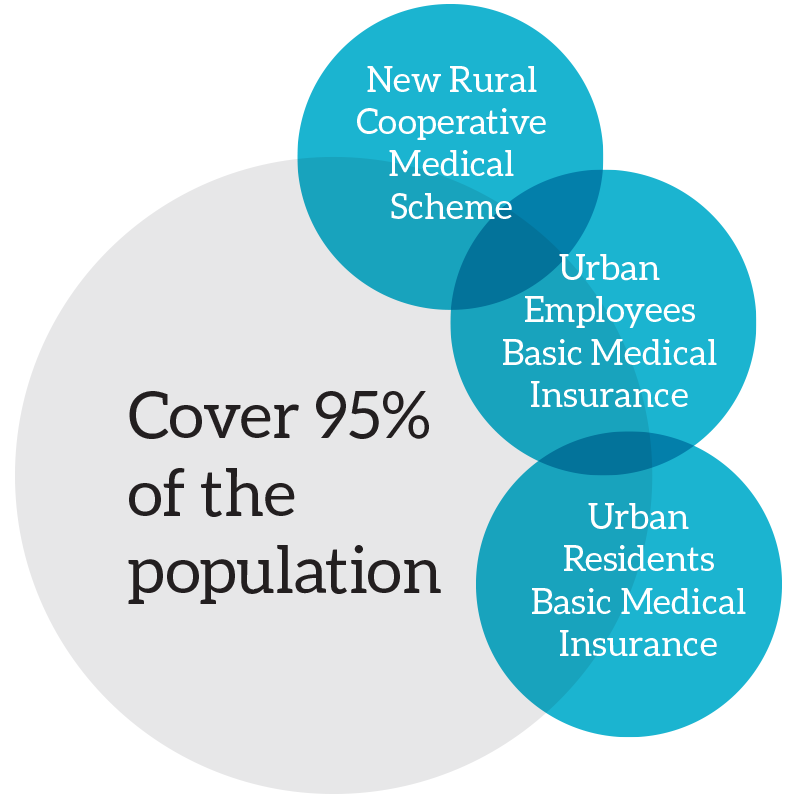 Legend: The 3 main medical insurance schemes in China
---
China Healthcare Delivery
Medical education in China focuses on specialists and thus most doctors function as specialists upon graduation. This results in a serious lack of general practitioners to provide primary healthcare.
This lack of primary healthcare has made locals seek medical care in hospitals instead, causing hospitals in cities to be overcrowded. This is made worse by the recent expansion of health insurance coverage, which resulted in a 15% increase in patients seeking primary healthcare between 2008 and 2009 alone.
Number
Beds
Bed Utilization
Personnel
Class III Hospitals
1,230
> 500
100%
1.04 doctors per bed
0.4 nurses per bed
Class II Hospitals
6,520
100-499
80%
0.88 doctors per bed
0.4 nurses per bed
Class I Hospitals
5,110
20-99
55%
0.7 doctors per bed
>5 nurses in total
Type of Hospitals in China's Public Healthcare Delivery System
In response to the overcrowding, the Chinese government has setup Community Health Centers (CHCs) which provide drugs at subsidized prices and medical charges at reimbursed rates to attract locals. Yet, the number of CHCs in China is not sufficient to cope with the rising healthcare needs from the Chinese.
This demand for healthcare has also made the Chinese government recognized the need for more private healthcare providers in China. Although private healthcare has been around in China for over 20 years, they have never played a significant role in China's healthcare delivery. Presently, they account for only around 12% of China's hospital beds.
There are 3 main types of private hospitals in China; high-end that targets expatriates and wealthy Chinese, specialty hospitals that focus on niche services and general hospitals. Chinese doctors can only choose to work in one facility and would have to stay in that facility throughout. Thus many prefer to work in public hospitals for a more flexible career track. In addition, government policies do not allow private hospitals to be covered by public health insurance.
However, recent health reforms saw the removal of these two restrictions and this made private hospitals more attractive to locals and doctors. This is evident in the surge of 1372 private hospitals in 2011 alone, with most of these hospitals situated in Beijing. Having recognized the market potential of China's private healthcare delivery system, international healthcare providers such as Parkway Health have started to establish a presence in China.
China Pharmaceutical Industry
As of 2012, China's pharmaceutical market is worth US$48 billion with over 50% of China's healthcare expenditure spent on China's pharmaceutical industry. China's pharmaceutical market is projected to grow at a CAGR of 26%, reaching a value of US$315 billion by 2020.
Generic Drugs
China has more than 5000 pharmaceutical companies with 98% of them producing generic drugs. In 2009, this sector was worth US$29.3 billion, forming 63% of the total pharmaceutical market. Analysts estimated that this market would boom at a CAGR of 12.9% to hit US$57.1 billion by 2014.
Over-the-counter (OTC) Market
China's OTC medicine sector is an area not to be missed. It was worth US$15.9 billion in 2010 with an annual growth rate of 7.7%. With increasing affluent and education level, the Chinese population is becoming more health conscious. This resulted in an increase in popularity of preventive medicine amongst the Chinese. The urban population are also becoming increasingly health conscious with an increasing number of people visiting drugs store for health products.
Key Players
Large foreign pharmaceutical companies in China all hold similar market share. Leading players include Pfizer, Astra Zeneca, Bayer, Sanofi and Roche.
Leading domestic players such as Sinopharm and Shenzhen Hepalink Pharmaceutical are focusing on expanding their distribution network. Sinopharm in particular aims to achieve nationwide coverage. Also, there are collaborations between local and foreign pharmaceutical giants such as Shanghai Pharmaceuticals and Pfizer, for development of innovative medicines.
Challenges
Currently, 80% of drugs are distributed through hospitals while the remaining via pharmacies. Due to China's vast geographical area, foreign pharmaceutical companies would require local distributors to put their drugs in the hospitals and pharmacies. With China's complex distribution network, foreign companies often have to engage multiple distributors in order to have its product reach the consumers. This would affect profits with increasing distribution costs, increasing risk of counterfeit drugs and difficulties in product recall.
Typical pharmaceutical distribution channel in China
In addition, foreign pharmaceutical companies might face the loss of drug patent in China. To bring down drug prices, the Chinese government has been declaring drug patents to be invalid. This can be seen in the case of Gilead Sciences's Viread where the China's State Intellectual Property Office declared the patent for Viread to be invalid for a lack of novelty and this effectively halved Viread's price.
China Medical Device Industry
China's medical device market is valued at US$20 billion in 2012 and is currently the 3rd largest medical device market. China's medical device industry has a very positive outlook as the government is continually building new healthcare facilities and upgrading existing facilities to meet the rising healthcare demand. It is expected to become the 2nd largest market in the world within 5-7 years.
China's Medical Device Market Breakdown (2010)
Presently, foreign MNCs focus on production of high and middle-end equipment, covering more than 80% of China's high-end medical device market.
Local players on the other hand focus on low-end medical equipment manufacturing. There are over 3000 domestic manufacturers and many of them are small and medium-sized companies. However, the domestic players are constantly upgrading and are starting to enter the medium-end market using a cost-competitive strategy. It is estimated that these domestic players are able to price their products at an average of 30% lower than their foreign competitors.
| Local Enterprises | Employees | Annual Revenue |
| --- | --- | --- |
| Mindray | 6300 | US$788.4 million |
| Shandong Weigao | 7400 | US$405.65 million |
| Shandong Zibo Shanchuan Medical | 6000 | US$279.49 million |
| Beijing Lepu Technology | n/a | US$110.18 million |
| Trauson Holdings | 950 | US$47.93 million |
| Kanghui Holdings | 750 | US$40 million |
Top Local Medical Device Companies in China (2010)
Challenges
For foreign entry into China's medical device market, the Chinese government has a list of encouraged and forbidden items in which foreign companies should take note on.
Encouraged Items
Forbidden Items

Medical imaging equipment
Medical ultrasound transducer

Middle and low end b-mode ultrasound image screener
Disposable syringes, infusion sets, blood transfusion and blood bags
X-ray computed tomography equipment
Magnetic resonance imaging sets
Large-sized medical equipment such as accelerated synthesizers
Furthermore, China has a poor distribution and logistical system for its medical device industry. Like other Asian countries, relationship and networking is crucial in ensuring successful distribution coverage. It is recommended that foreign companies engage local distributors for distribution. Yet, China's distribution is very fragmented, most local distributors can only cover one or two departments within a hospital and it is crucial to find distributors who can overcome this to thrive in China.
---
For more details on how Solidiance can help you to successfully enter China and grow your healthcare business, please meet our team or send us an email.
---